How to Choose the Perfect Engagement Ring
With our sustainably created diamonds
A big moment, with so many ways to start. Whether choosing the ring on your own or together, your engagement design involves consideration of several factors, and we're here to break them down with you. Below, we address each part of the ring below for a thoughtful, stress-free and enjoyable engagement process.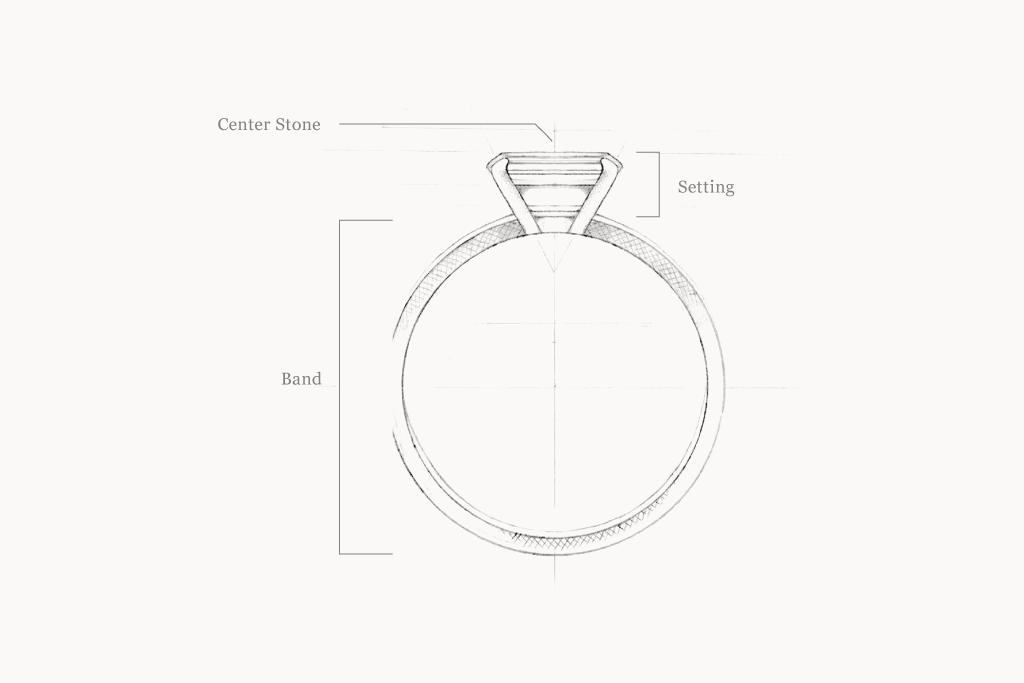 1. What is the anatomy of an engagement ring?
As you and your partner begin the engagement ring process, it's easy to be flooded with technical terms about each aspect. We reduce the components of the engagement ring down to three sections, so you can focus on what is most important.
Center Stone:The focal point, the center stone is often a diamond.
Setting:A design feature, the setting is the structure holding the center stone and any side stones securely in place.
Band:The band is the section of the ring that wraps around your finger. Its inner circumference determines your ring size.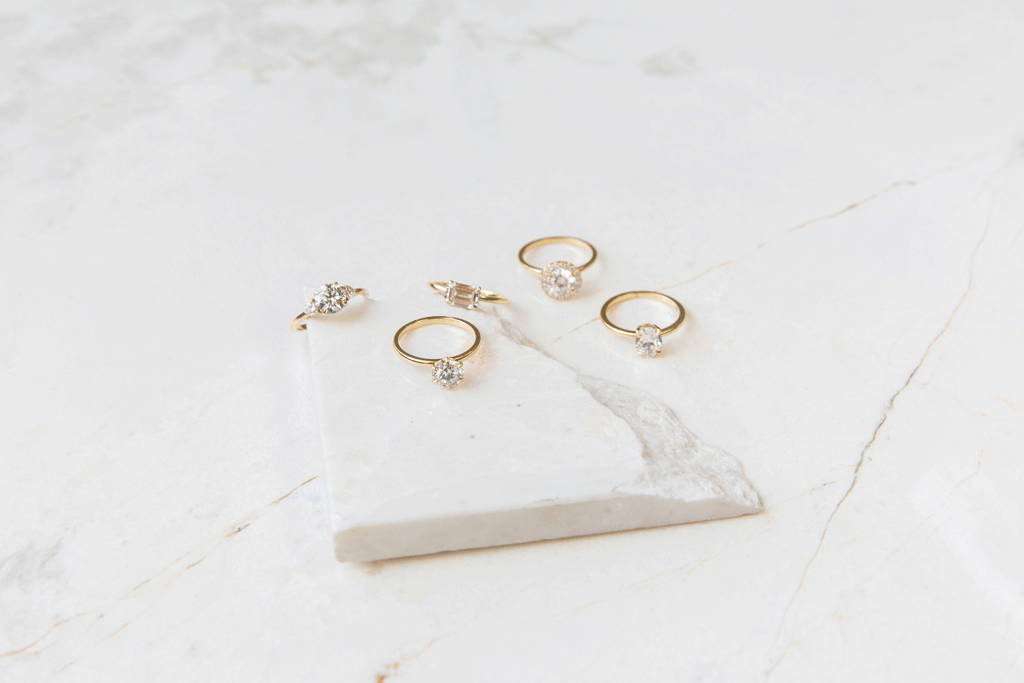 2. How to choose the ring style?
The ring style is very personal, symbolizing shared love and commitment. We've compiled some useful tips to help lead you in the right direction if choosing the style on your own.
Has your partner previously hinted at a style? Their subtle (or not so subtle) preferences can serve as a guide.
Check your partner's Pinterest profile, an online "pinboard" for collecting and organizing inspirational imagery. Try searching for your partner's name to find his or her profile on the website. Should your partner have a profile, you'll be able to view "boards" that display pinned (saved) images according to their personal categories. A board titled "Wedding," may lead you in the right direction.
Search your partner's favorite brands on social media for inspiration—if a beloved brand has more minimal imagery on their, Instagram feed, your partner may also prefer a minimal design like The Emerald Signature. 
Reach out to family and friends who know your partner's taste or have previously spoken about a design.
Take notes on your partner's personal style. Would you describe it as classic, simple, colorful, bold or eclectic?
Ask questions and receive advice from our diamond and style specialists who can help you select both the perfect diamond and design. Please reach out at hello@vrai.com or LiveChat by clicking the icon on the lower right corner.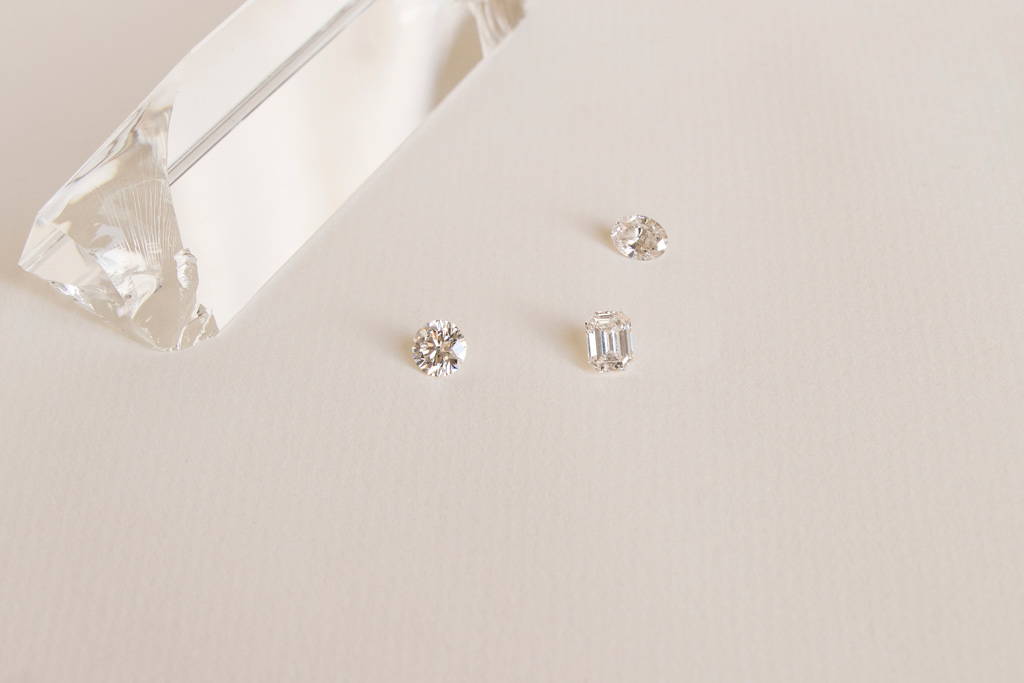 3. How to choose the right diamond?
Your diamond is likely the most exciting and considerable purchase for the ring, but also one full of intimidating jargon and technical terms that make many want to zone out. Our sustainably created diamonds have the same beautiful characteristics and are graded the exact same way as mined diamonds, but without the question of origin. Based on your style preferences, first choose the shape of the center diamond.
The diamond shape, while not considered one of the 4C's, is nevertheless an important choice for your final engagement design, determining the look and mood of your ring. Our shapes have distinct characteristics–some classically aligned and others playful and energetic. With the many options, we profile our three engagement styles to help determine the best design for you.
Learn more about our diamond shapes here.
---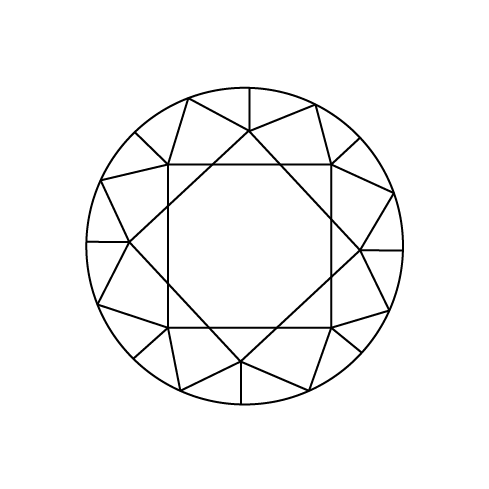 Round Brilliant Diamond
Timeless, the Round Brilliant has been perfected by cutters to achieve optimal light behavior and brilliance since its creation in 1919. Featuring 57 to 58 facets to form a compact mosaic, this conical cut reflects light back to the viewer, hence it's "brilliance." It's a kind of classic that embodies the full potential of the material.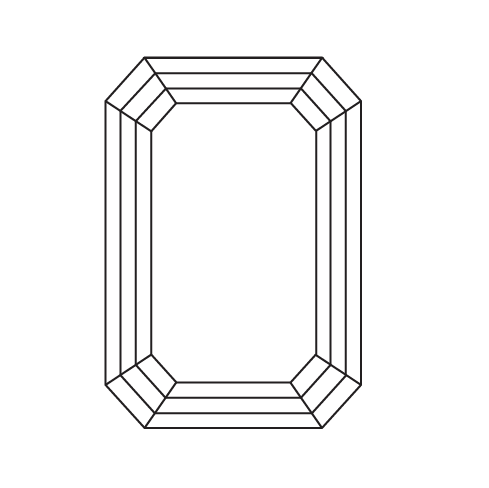 Emerald Cut Diamond
Celebrated for its linear light dispersion, the Emerald holds an allure distinct from other cuts. With an open table and 58-facets, this cut creates a mirrored effect of bold elegance. Progressive in form, the Emerald is ideal for those interested in symmetry and depth versus the brilliance of the mosaic pattern.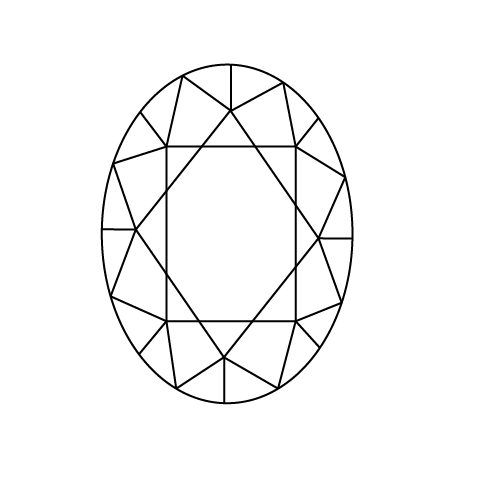 Oval Cut Diamond
Elongated in form, the Oval features the same brilliance of a Round diamond, giving its 57 to 58 facets ample light reflectivity. Due to the nature of the cut, most Ovals have a bow-tie looking center, an effect that occurs when light doesn't bounce back in the diamond. Look for diamonds with a slight bow-tie to maintain sparkle. The Ovals slender shape also makes it appear larger. With a soft silhouette and large surface area, this cut is a study in uniquely balanced proportions.
Pear Cut Diamond
No need to compare apples to oranges, our Pear is designed to be distinctively different. First created in 15th century Belgium, this cut features 58 facets and a rounded end tapering at a point. It's teardrop silhouette points upward, representing optimism in your everyday.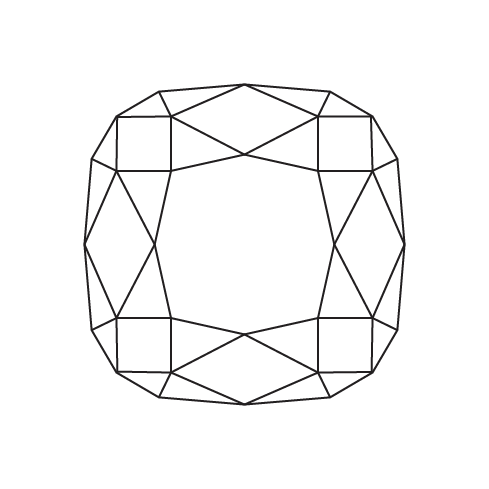 Cushion Cut Diamond
Like a pillow for your hand, the Cushion is a daily reminder to embrace our soft side. The cut features a square shape with soft, rounded corners for a balanced form, combining modern details with the warmth of the classic 19th century shape. With it's large facets at the top, this cut's brilliant light reflections often resemble "crushed ice," bringing a unique luster and graceful feel to its design.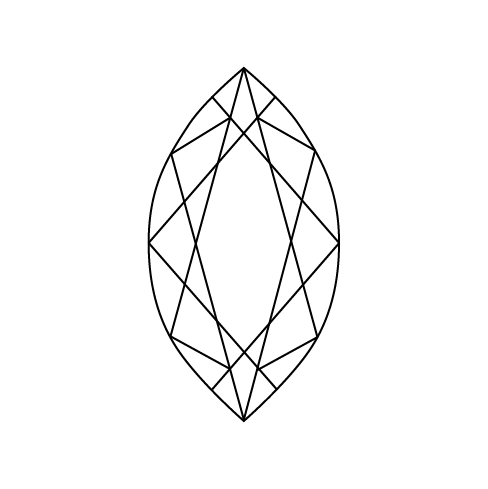 Marquise Cut Diamond
An appealing balance of proportion and symmetry, this elliptical shape with sharp edges maximizes carat weight and brilliance.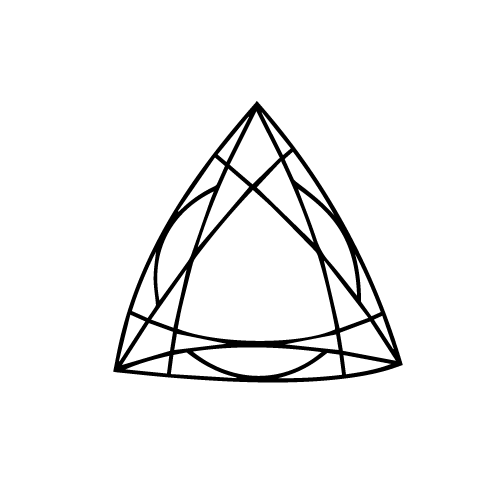 Trillion Cut Diamond
A triangular shape with large facets creates depth and dimension maximizing radiance and attracting natural attention.
The 4 "C"s are specifications that create a diamond's value, known as cut, color, clarity and carat. After the diamond shape, your final diamond's look and price are determined by these characteristics. In addition to these specs, we've also introduced what we call the 5th "C"—conflict-free origin. Our sustainably created diamonds have the same characteristics and grading as mined diamonds, but without the question of origin.
1. Cut
A Diamond's Symmetry, Proportion and Polish.
The cut makes up a diamond's symmetry, proportion and polish, with the quality of the cut directly corresponding to a diamond's brilliance.
2. Color
Graded on the Absence of Color
The color scale ranges from D (perfectly transparent) to Z (pale yellow). We've tailored our selection of diamonds from D to I — offering only colorless and near colorless stones.
3. Carat
The Measurement of Diamond Weight
Carat refers exclusively to the weight, not size, of the diamond. From subtle to generous, our range consists of 0.75ct and above.
4. Clarity
A Diamond's Unique Imperfections
All diamonds contain a distinct DNA of internal inclusions and external blemishes, graded under 10-power magnification. Our selection ranges from FL to SI2 ensuring only the highest clarity of diamonds.
5. Conflict-Free Origin
Aboveground Diamond Source
We like to consider the conflict-free origin of our diamonds the fifth 'C,' as the diamond source is just as important as the other grading techniques. By using aboveground diamonds sustainably grown in California, we ensure complete traceability on the human and environmental toll of sourcing.
With such a significant topic as diamonds, we've created a separate post on how to choose the perfect one for you and your partner.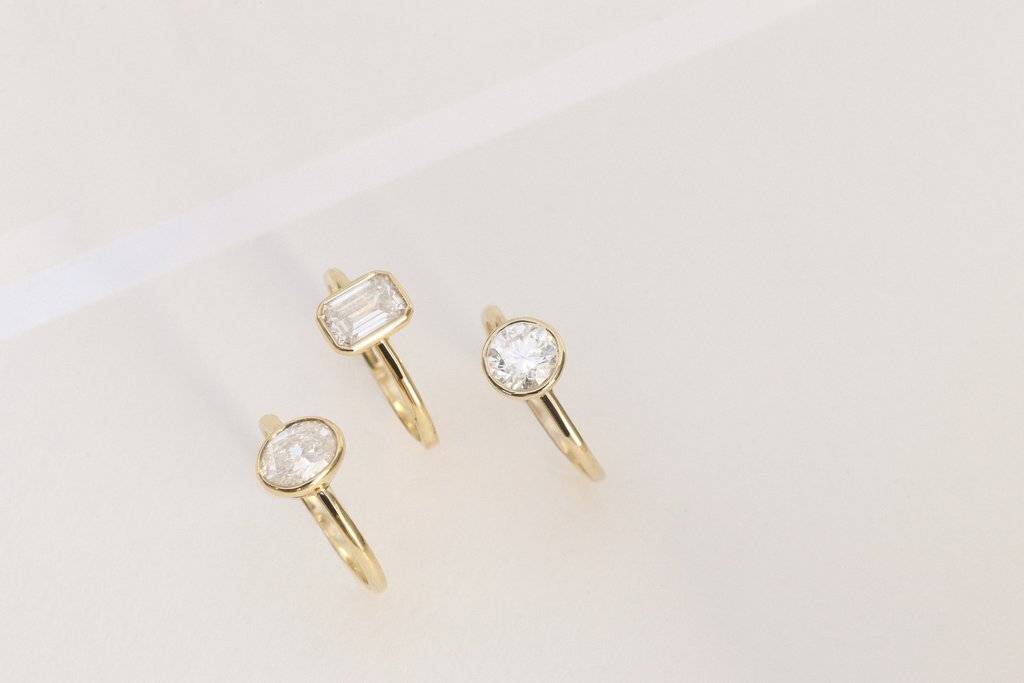 1. How to do I choose the right setting?
The setting is the structure on top of the band that holds the diamond in place and is best determined after you select the shape of your diamond. While the setting is a stylistic decision, we share a few helpful points about settings for you to keep in mind.
Ring Setting Tips
For very active lifestyles, bezel engagement rings are a great option as they offer the most security, enclosing the entire diamond within a slim solid gold rim. Typically bezel designs are enclosed on the sides, but we designed our bezels with an open gallery for greater light dispersion from top to bottom.

 

If you decide on a prong design, the number of prongs is an aesthetic choice and your diamond is secure. Our designer styles are thoughtfully designed by our women-led, in-house design team. These styles offer diamond security and classic style with our signature twists.
| | |
| --- | --- |
| | |
| | |
| | |
| | |
| | |
| | |
| | |
| | |
| | |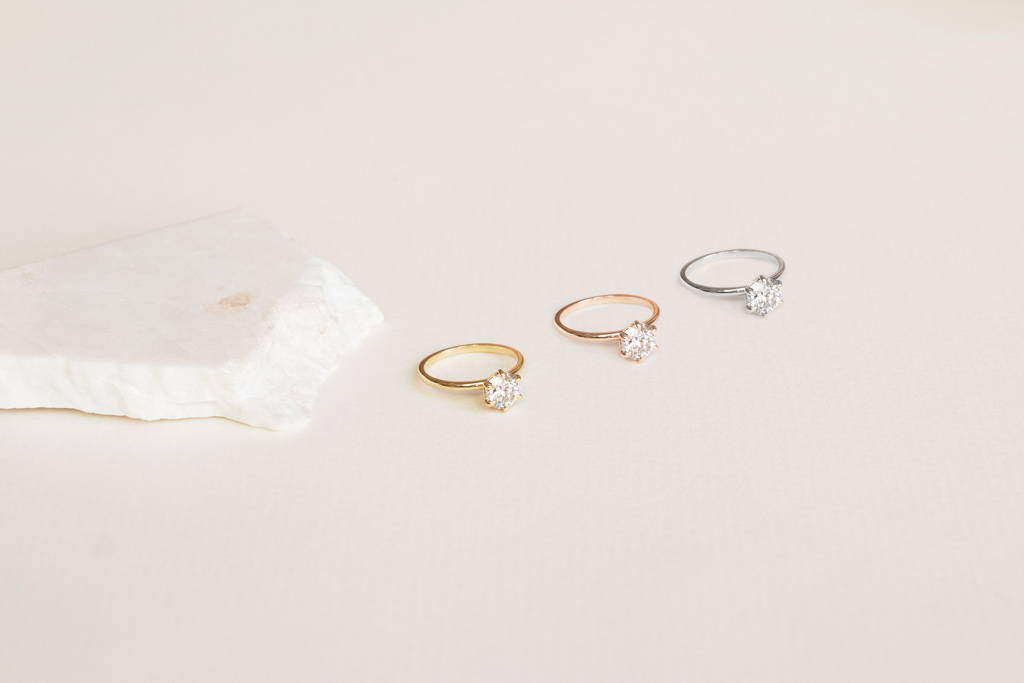 5. What color metal should I choose?
The color of your ring is another stylistic preference, influencing the overall tone of the design. Created by the combination of pure gold and alloys, we offer our 18k solid gold designs in three different colors: yellow gold, rose gold and white gold. The color of your gold will affect your diamond's hue, since light bounces off the two to make slight tonal changes. In addition to gold, our engagement rings are also available in Platinum, a naturally-white metal favored for its strength and longevity.
Rose Gold

A mix of pure gold and copper gives rose gold it's pink finish and ethereal nature. Often deemed romantic and feminine, Rose Gold is currently considered the trendiest option but we believe it will never go out of style. It ages gracefully and will continue to be a subtle daily reminder of this time period which is a beautiful gesture on it's own.

Yellow Gold

Yellow gold combines pure gold, fine silver, and copper, resulting in a rich and warm golden hue. If you choose yellow gold, you can more easily justify selecting a diamond with a lower color grade as the yellow gold setting will offset the added warmth of the diamonds giving you more flexibility within your budget– we recommend diamonds between G-J in color. Yellow gold is our most popular and classic color choice as it has stood the test of time.

White Gold

To achieve its white color, pure gold is often mixed with zinc, palladium, or nickel alloys. White gold rings are also dipped in rhodium, giving them a brilliant, chrome-like color, while also protecting them from scratching. However, to maintain this white luster, white gold should be "re-dipped" every few years– a simple and affordable upkeep. White gold's bright white color can emphasize yellow coloring within the diamond so we recommend selecting a diamond that is H+ on the color scale.

Platinum

Platinum is a naturally occurring white metal with the same coloring as white gold, but tends to be stronger. While it has a higher price point, platinum requires less maintenance and doesn't have to be "re-dipped" in rhodium like white gold.

 
6. How do I determine the ring size?
The last, but not least step in the perfect engagement design. Determining the ring size on your own or collaboratively can be a tricky and sensitive process, but we're here to provide some easy aid.
If the Ring is a Surprise +
Ask your partner's friends or family if they know his or her ring size if they've gifted one previously.

 

See if you can borrow one of your partner's existing rings (for the correct finger). Using measuring tape, find the circumference of the ring and compare to our

Ring Sizing Chart

.

If neither of these options are a possibility, you can reach out to our style specialists who can see if he or she has purchased a ring with us in the past! If not, we offer gentle guidance on sizing.
If You're Working Together +
Should you make this a collaborative activity, ring sizing is simple with our

ring sizer

, a straightforward, reliable measuring tool. Like a belt for your finger, secure the end through the "buckle" to form a ring shape. Slip your finger through the loop and pull the end through. Similar to a belt, you want this to be tight, but not uncomfortably so. You should be able to slip it back over your knuckle. When it feels snug, look to the little black arrow to determine the ring size.

 

No ring sizer? A thin ribbon, string or strip of paper can suffice. Wrapping it snugly around the correct finger, mark the spot where the material meets with a pen. Measure the distance with a ruler (in mm) to compare to our

Ring Sizing Chart
General Tips for Finding the Perfect Ring Size +
A well-fitted ring should be easy to put on, a tad snug to take off.

 

Unsure that the plastic slider (if using a ring sizer) or sizing material (if using ribbon,

string or paper) fits over your knuckle—if you have thin fingers but larger knuckles, you may need to order a half size larger.

 

Temperature affects sizing. Fingers appear smaller when cold, and larger when warm. Measuring at the end of the day when your extremities are warmer ensures a more accurate reading.  

 

Size the exact finger for the ring, as your left and right hand's fingers are not identical (the dominant hand tends to be larger). Typically engagement rings are worn on the left ring finger, but we're okay with questioning this tradition.

 

Avoid eating salty foods and alcohol before sizing, as they make your body retain water, which can result in a larger ring size.

 

Size multiple times, multiple different days, as your body swells and shrinks daily.

 

We offer all our engagement rings in quarter sizes so if you're still unsure, your best bet is always to order a quarter size up.

 

Should you ever need a different size, just reach out to hello@vrai.com.
8. I still need help deciding.
Ask questions and receive advice from our diamond and style specialists. They can assist with any style decisions and show you photos and videos of specific diamonds.