A Guide to Choosing Your Engagement Ring

4 questions to help break the ice.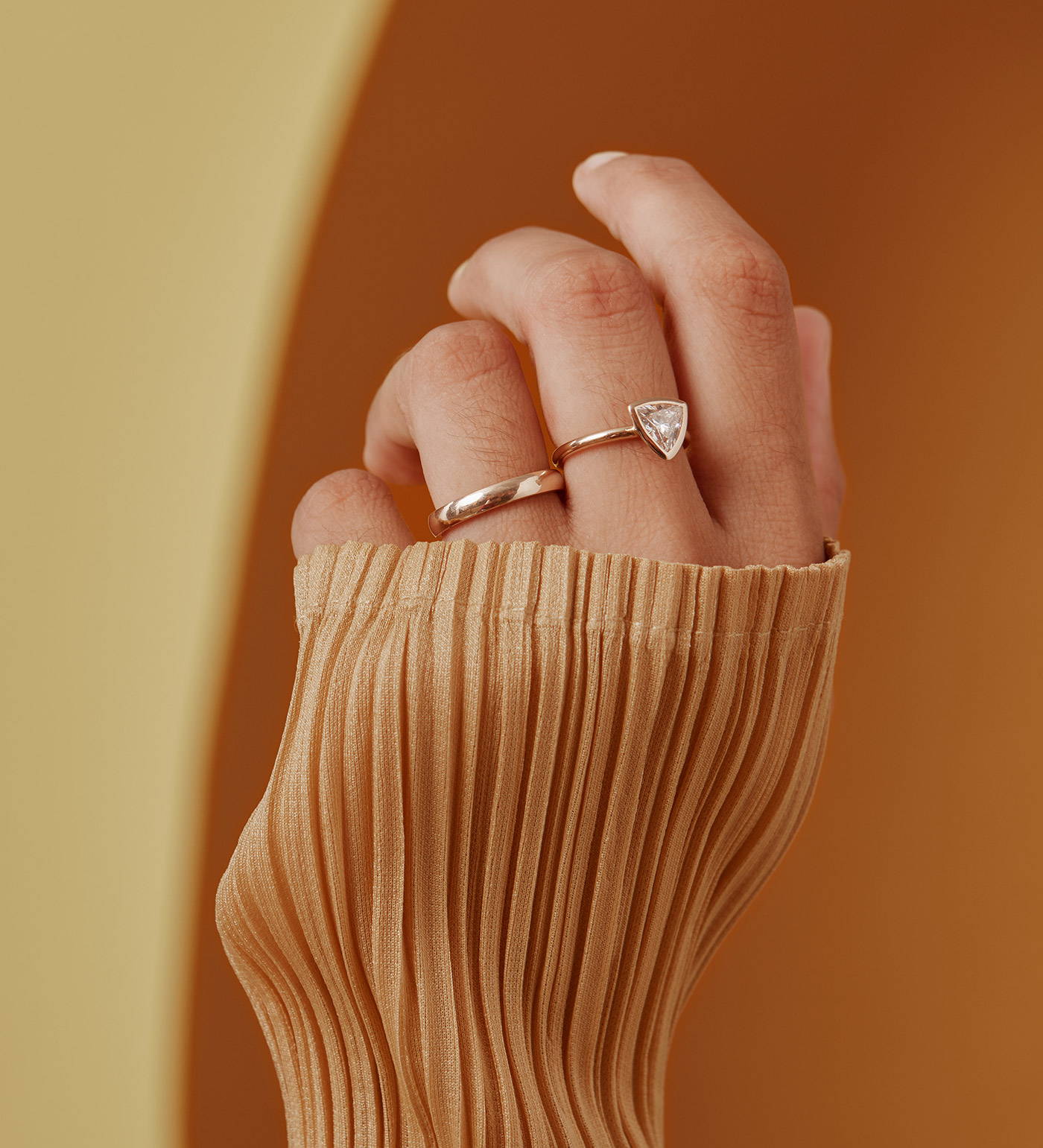 We believe relationships are all about communication, so finding your engagement ring is no different. The engagement process can be complicated, and sometimes even a bit awkward, but we're here to do things differently and hopefully make it fun.
Pouring through conversations with our community and our own friends, family and partners, we've gathered the top four icebreakers to help guide the conversation about your ring and your sustainably created diamond. So enjoy a date night in with some natural wine & our playlist to set the mood, and let the conversation flow!
#1. Should I care about Carat Weight?
Carat refers a diamond's weight, not size. A carat is one of the 5 C's, our version of the 4 C's, that create a diamond's value. The most popular carat size? We've found that our community favors 1 full carat, which translates to 0.2 grams - the weight of a paper clip.
Our society has made carats seem like the most important factor, but the best diamond carat, or weight, really depends on your budget and lifestyle. We encourage you to talk to your partner (or a trusted friend or family member) about how much you're willing to spend and what carat weight will really make you happy.
Ask yourself and/or discuss with your partner:
– What's our overall budget for the ring?
– What's our budget for the diamond?
– What carat weight will make me happiest?
– Why would I want a larger or smaller carat weight?
– Do you tend to work with your hands a lot? Are you concerned about harming it or your clothes?
– How important is this to me compared to the other 5C's?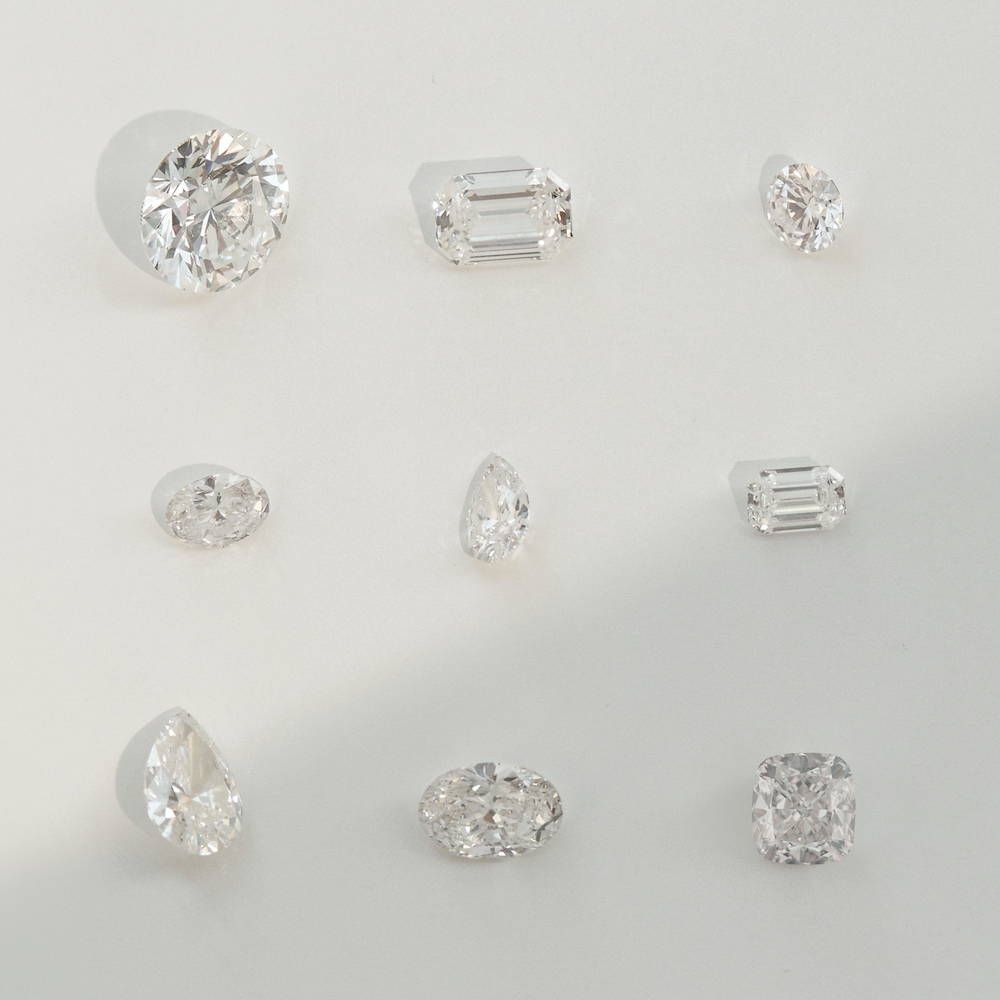 #2. Diamonds are for everyone, but which one's right for me?
Let choosing the diamond shape be a fun and exciting experience - a way of expressing you. When determining your diamond shape, we suggest first thinking about your home and personal style. If you're drawn to softer forms, you may love the Cushion or Oval shapes. Likewise, if you enjoy bolder colors and more angular objects, the Emerald or Pear may be for you.
Still can't decide? Booking a Virtual Diamond Appointment with us is a great way to see which one "sparks the most joy" to you, as Marie Kondo would say. Our founder Vanessa encourages everyone to trust their gut instinct, especially in a purchase as important as your engagement ring.
Ask yourself and/or discuss with your partner:
– Am I drawn to softer or bolder shapes?
– Is there a shape that is part of my family history or traditions?
– Do I want a more modern shape or something timeless?
– What does my gut instinct tell me?
– How will this shape influence the overall look of my ring?
Which shape speaks to you:
The Lover

The Round Brilliant Diamond

 

Romantic at heart, brilliantly cut with 58 facets - a shape for love that can't help but shine.

The Magician

The Emerald Diamond

 

Both a diamond and emerald, an enigma inspiring wonder, drawing you in with the best of both worlds.

The Rebel

The Pear Diamond

 

Designed to be different, a teardrop shape leads to a single point, a forward-thinking leader with a fearless spirit.

The Hero

The Oval Diamond

 

More than meets the eye, a soft silhouette with a strong core embodies a courageous love thats hard and true.

The Queen

The Cushion Diamond

Historic in size and scope, with rounded corners and brilliant facets to emit a noble quality.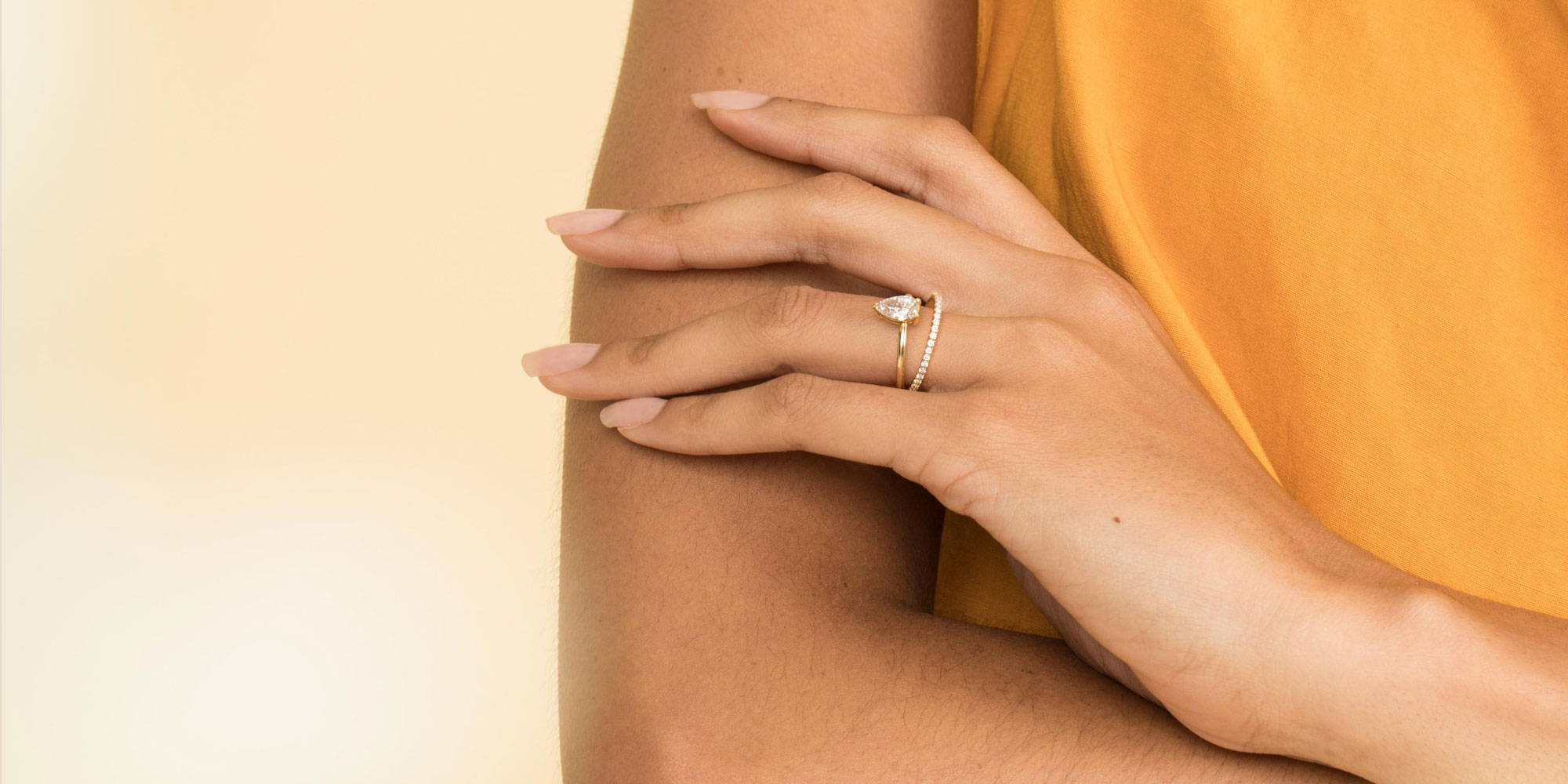 #3. There are too many setting options out there. Help.
The setting (or the metal design supporting your center diamond) is like the icing on the cake...you can go as simple as a polished gold band or enhance your diamond's shine by playing with band width and design, as well as additional sustainably created diamonds like pavé or side stones. We know the options can seem overwhelming, which is why we thoughtfully design each ring in our collection to find the perfect balance of proportion, visual interest and brilliant shine. Have fun exploring Pinterest boards and social media for inspiration.
Practically, you'll also want to consider how your diamond sits within its setting. If you'd like your diamond to set flush, or level, with your wedding band (rather than with a small gap in between), look at setting options that meet the perfect balance between allowing light and flexibility with your band.
Ask yourself and/or discuss with your partner:
– How do I want my setting to compliment my diamond?
– Do I want my diamond to sit flush, or level, with my wedding band?
– Do I like side stones, or other flourishes?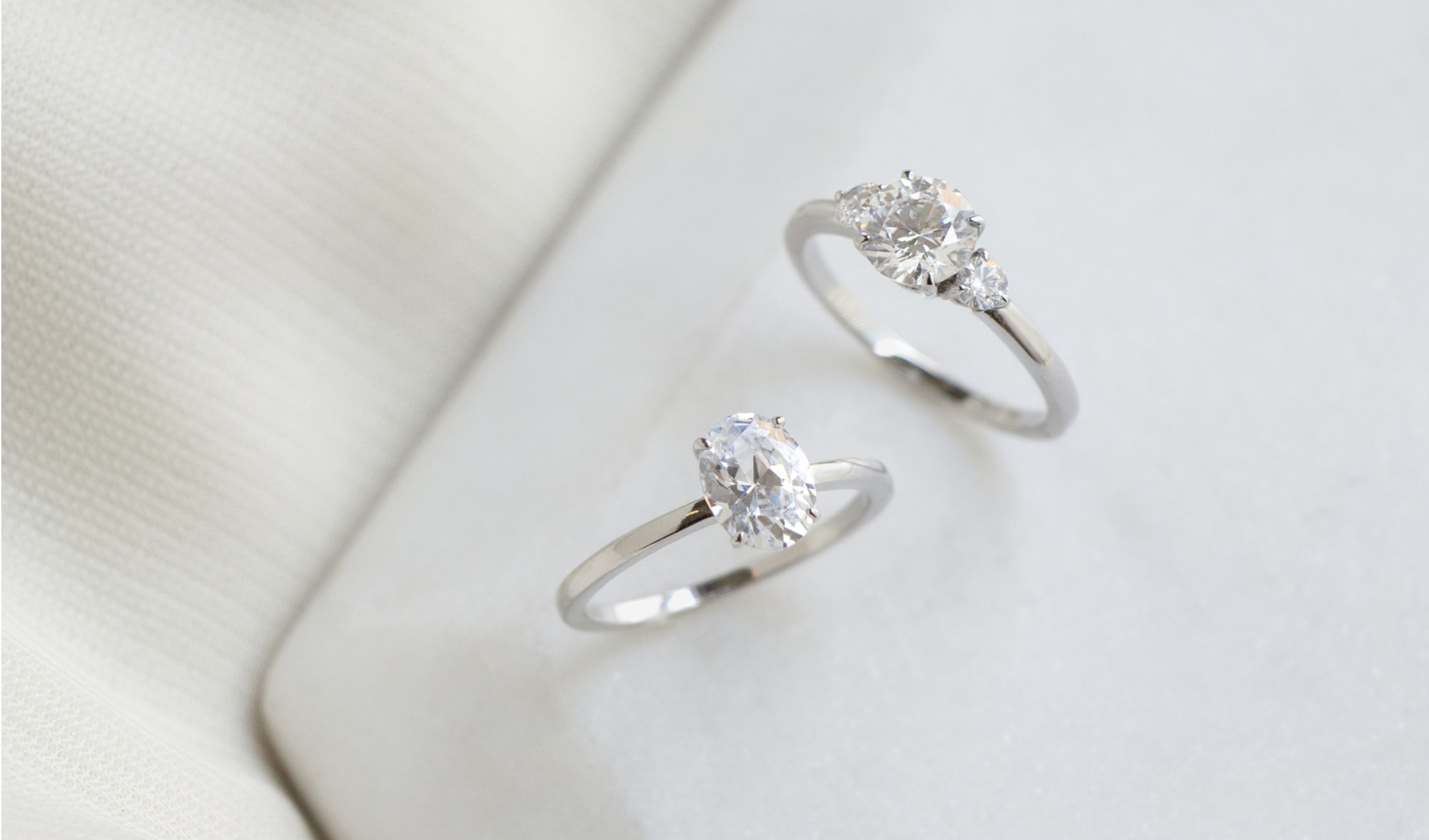 #4. Which should I choose, gold or platinum?
Last but not least, we recommend thinking about your metal type and color. Peruse your jewelry collection - are most of your pieces in one metal type or color, or are they mixed? We receive many questions about which color is right for your skin tone, but you may have already answered this question in your own preferences!
Here at Vrai, we use solid 18k solid gold or platinum in our rings. Our 18k gold is 100% recycled, ensuring no additional human or environmental tolls caused by mining. Our platinum is responsibly sourced by our manufacturing partners.
Wondering about Platinum? Platinum is a naturally white metal, a bit rarer than gold, and is heavier and harder. Over time and daily wear, it will develop small ridges that create a desirable "patina" of age. While Platinum is more expensive upfront than white gold, many prefer that it doesn't have to be recoated with rhodium like white gold. Discuss your lifestyle and color choices, and learn more about gold colors here.
Ask yourself and/or discuss with your partner:
– Which metal color will look best on skin tone?
– Do I like to mix metals?
– Will my gold color match my parter's ring?
– If I want a white colored metal for my ring, would I prefer the affordability but upkeep that comes with white gold, or the durability but higher price point of Platinum?
Want to continue the conversation?